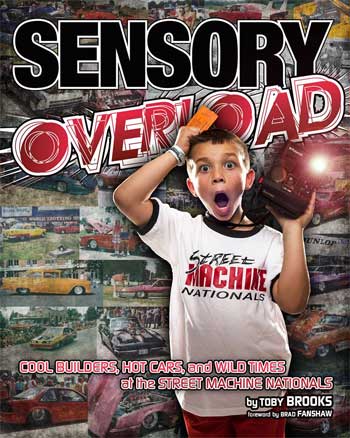 The Street Machine Nationals were some of the most outrageous displays of automotive and social excess the world has ever seen. An annual destination of 100,000+ spectators and as many as 5,000 tricked out street machines, "The Nats" rightfully earned their place in the memories of gearheads and partiers alike. In SENSORY OVERLOAD, author Toby Brooks cracks open the dusty covers of scrapbooks the world over to reflect on the people, the rides, and the happenings that made the Nats the show that would never be equaled. He analyzes the factors that initially led to the show's demise from Du Quoin in 1998 and also delves into the efforts that ultimately led to the event's triumphant return for 2013. The result of more than three years of research, SENSORY OVERLOAD features more than 40 interviews with reflections from the men and women who made the show legendary. SENSORY OVERLOAD is sure to be a supercharged and nitrous-assisted trip down memory lane for anyone who braved the 'grounds and witnessed the event firsthand. It is also an eye-popping, jaw-dropping account of the wild times and fast cars for both those who attended and those who didn't alike. Neon paint and sparkling chrome. Open headers and surging blowers. Burnt rubber and barbecue. Experience or relive the overwhelming sensations of the Street Machine Nationals in SENSORY OVERLOAD!
Chapter 1 Sneak Peek
Buy the Book! Just $22
Less than ONE case remains of this initial printing. Once they are gone, they are GONE!
FREE SHIPPING in the continental U.S. (sorry...no international shipping).
Autographed or Not
Autographed (no extra charge)